Johnny B: Hello skiers. This is Johnny B for AltaCam.com. Today, I'll be talking with the Director of Alta Ski School, Alan Engen. Good to see you, Alan.
Alan Engen: It is a wonderful time being with you today, John.
Johnny B: How are things going?
Alan Engen: Couldn't be better.
Johnny B: Now, I am correct in saying you are the Director of the Alta Ski School.
Alan Engen: Well actually, no, you're not 100% correct.
Johnny B: OK. Fill me in.
Alan Engen: My title is Director of Skiing at Alta.
Johnny B: OK.
Alan Engen: I was the Director of the Ski School for a number of years, but my assistant, Dave Robinson, took my spot and is now the Director of the Ski School.
Johnny B: Hoopa.
Alan Engen: Hoopa.
Johnny B: Yes, a great guy. I know who he is. Well, let me ask you this. When did you first come to Alta? Talk about some of your early memories as a kid in Alta.
Alan Engen: Well, officially, my early period in Alta was after my father coached the 1948 Olympic team. Prior to that time, my mother and father and myself, we lived in Sun Valley, Idaho. Dad worked up there in a number of capacities, and after the Olympics, we moved from Sun Valley back here to Salt Lake.
My father took over the ski school from my uncle, Sverre Engen who was the Director of the Ski School at that time and was doing something else at that time. He was building what is now the Rustler Lodge. He and his wife, Lois, became the first managers of the Rustler Lodge.
When he did that, then my father stepped in to the role of the head of the ski school, but when dad took over, it was just basically dad and my mother. They were just two people there, and I was just a young kid at that time, around 8 years old. So that was my beginnings of really skiing in Alta. I have had the opportunity of going up a few times with my father prior to that time, but it was just on a visit basis.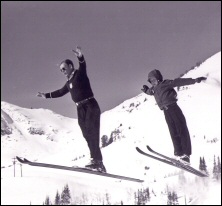 Johnny B: Sure.
Alan Engen: We only moved here to Salt Lake. Of course, then, Alta became a home for me because that was really my roots in terms of skiing here in Utah. I did grow up pretty much in the Little Cottonwood Canyon even to the point where I had extended periods of time that I lived with my parents in their room at the Alta Lodge and had a lot of experiences that happened to me during those early years.
Johnny B: I see. What were some of your fondest memories growing up there and skiing in Alta? You started when you were like...you came here when you were about 8 years old then?
Alan Engen: About 8 years old.
Johnny B: Yes.
Alan Engen: Yes. Early memories: Some of the folks that are now considered legends in skiing like Junior and Maxine Bounous, for example, were at that time living at Alta. Junior became my father's first assistant director as a matter of fact. As a young kid, I had the privilege of not only tagging behind my father.
Johnny B: Yes.
Alan Engen: But Junior and a lot of the other early members of the ski school staff at that time. So I had an opportunity in those days of being able to ski virtually all day long in untracked powder behind these great skiers. It was a fun experience for me growing up.
Johnny B: When you were skiing with your dad, one of my favorite pictures is you and your dad both making like the same turn. You were like 12 years old. I do not even think you had goggles on. What were the kinds of things your dad...what were the words your dad said to you as advice for skiing powder when you were young? What were the kinds of things he yelled to you while you were skiing?
Alan Engen: Well, I don't know that I ever remembered too much. Well, I guess I do. One of the tips that dad gave me as far as skiing powder: He said, "You have to be clean. You have to slice the snow. When you come in to it, you just don't push down hard and just make a great big. You got to be very clean and make those turns as clean and as pure as you possibly can."
Johnny B: Speaking of your uncles and your dad, they obviously were all great skiers and jumpers in their own right and athletes. How did their styles differ from each other on the hill, skiing wise?
Alan Engen: Well, you have to remember that all three of the brothers started as ski jumpers. OK?
Johnny B: Yes.
Alan Engen: They evolved into the Alpine events as ski jumping was winding down at the end of the 1930s. Sverre was probably the first that got really involved in powder skiing because he came to Alta initially as the first snow ranger at Alta and of the country. He was the first designated, what they termed, snow ranger by the forest service. As a snow ranger, he had to get around the deep snow. So he perfected along with others at that time such as Dick Durrance who was skiing at Alta during those days.
Johnny B: Another great. Yes.
Alan Engen: Another great skier. OK. They perfected a technique in the powder called dipsy-doodle. There was the single dipsy and the double dipsy. Sverre was the double-dipsy expert.
Johnny B: OK.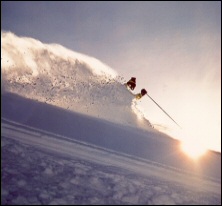 Alan Engen: If you some of the early films of him which I have, you'll see him skiing in a double-dipsy and everything else. Well, he developed a lot of the early techniques to a point. When my father came on board, of course dad was heavily into the Nordic side, but had already at that time won a couple of National Alpine titles along the way, but powder he didn't really have a whole lot of experience in. It was my uncle, Sverre Engen, who took that out and gave him his first pointers basically in how to ski powder snow.
Dad's contribution and the reason why he has the title father of the powder snow technique is because what dad did is he developed the teaching methodology for taking people out in the soft snow and making it so that they had a progression on how they can learn to ski powder. If you remember and think back into the...your recollection of the early skiers, you have to remember we didn't have the fine equipment that we have right now.
Johnny B: No.
Alan Engen: Everybody thinks that they are hot skiers and come through it, but a lot of that is due to the equipment that we ski on.
Johnny B: Absolutely.
Alan Engen: In the old days, you had soft boots. You had long wooden hickory skis - 7'3" was usually the standard, very difficult to turn. It was a tough thing. You couldn't get that many people out that really knew how to ski soft snow. They'd go up and they turn and fall and they get tired and they quit and go on in.
If we had stayed with the same equipment over the years that we had back in the '40s, I think the sport would probably have died. It's the new equipment and being able to allow people to get out into the soft snow and the other things and make it easy for them that has allowed the sport to continue.
My father developed a progression for skiers and became just a phenomenal powder skier; probably one of the best that you could ever see. I've got films of dad that are pretty darn good.
Johnny B: Pretty smooth. I've seen some footage.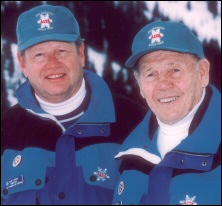 Alan Engen: My other uncle, Corey Engen who was the youngest - he was the youngest of the three brothers - he never was much of a powder skier. He was a competitor of the Alpine variety, and the harder the snow, the better for him. If it was glare ice, he was happy as a clown. OK?
Johnny B: Yes.
Alan Engen: You can see when the three of them would go out and ski powder, Sverre and Alf were always...they were skiing fools in the powder. Corey was struggling a little bit until it got all hard-packed and then Corey was just phenomenal in what he could do too. He was an Olympian and everything else.
All three of them had a little different style, a little different expertise. All three of them: Master instructors. Corey, of course, took on coaching and did many things in the Idaho area. He has established himself as a legend in Idaho just like my father is considered a legend here.
I have to tell you a little story.
Johnny B: I'm all ready to hear it.
Alan Engen: This is a little story. This is a true story.
Johnny B: OK.
Alan Engen: I tell it often when I give talks around because it's kind of a cute one.
Johnny B: OK.
Alan Engen: This comes from my mother. My mother is the one that tells the story and I have every reason to believe every word that she says, but she said when I came into this world many years ago, the doctor who delivered me put tongue depressors on the bottom of my feet and then proudly handed me to my father. So if that's true and I believe that it is, I can probably be pretty close to saying that I was born on a pair of skis.
Johnny B: Yes.
Alan Engen: That's a true story.
Johnny B: Every time I see you out there, it doesn't matter what the day is - hard-packed, blue skies, cloudy skies - you always look like you're having a good time and it always seems like a good day.
Alan Engen: You can't miss.
Johnny B: No.
Alan Engen: Not when you're at Alta.
Johnny B: That's right. I couldn't agree with you more. Alright. There you have it folks, Alan Engen. This is Johnny B for AltaCam.com with the great Alan Engen. Let's go skiing.