Alta Community Enrichment Presents Welcome to Winter 2005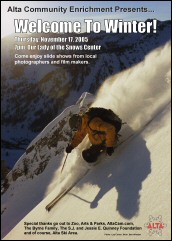 Alta, Utah, November 10, 2005 - Local photographers share their work and ACE previews this winter's exciting line-up of events. Catch up with old friends, meet new ones, and learn how to get involved! ACE is a non-profit organization.

The Welcome to Winter Party will be held at 7pm, Thursday, November 17, 2005 at Our Lady of The Snows Center in Alta. Get there early. It's usually standing room only. Special thanks go out to Zoo, Arts & Parks, AltaCam.com, The Byrne Family, The S. J. and Jessie E. Quinney Foundation and of course, Alta Ski Area.

We've started a thread in the Forum about this year's slide show. Go ahead and share your thoughts.

For more information and a complete ACE Calendar of Events for the 2005-06 ski season visit www.AltaArts.org.