Why Ski Alta?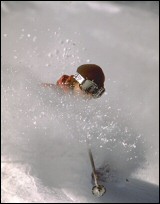 People often ask on the chair lift why I like to ski at Alta. I always mention that Alta is refreshing as a ski resort because it's
a town
that just happens to have the Alta Ski Lift Co. as the largest employer. All the lodges are independantly owned. There's a police department, library, post office and townhall. Alta is a local's ski hill where everyone knows each other.
If you're a skier, and haven't skied at Alta, you owe it to yourself to get here. Stay at the
Alta Peruvian
or the
Alta Lodge
for an authenticate Wasatch ski culture experience.
Browse Alta snowfall history.
560" annual snowfall average.
2200 skiable acres.
Vertical Drop: 2,020 ft (617 m)
Base Elevation: 8,530 ft (2,600 m)
Top Elevation: 10,550 ft (3,216 m)
116+ runs
25% Beginner Terrain
40% Intermediate Terrain
35% Advanced Terrain
45 minutes from the SLC International Airport
Alta is a skiers' mountain. Snowboarding is not allowed.