Ski Photo Contest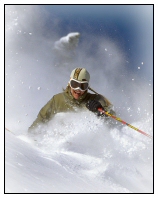 Sponsored by
Alta Ski Lifts
&
Backcountry.com
Dig deep into your ski photo collection and get ready to send us your classics, because it's on. Your photo submission could win $100 to spend on ski gear at Backcountry.com, and have their photo featured on the front page of AltaCam for a month.
The rules are simple: Email photo submission(s) to altacam@hotmail.com
Include the following info:
Full name
Mailing address
Phone number
Email address
The location where photo was taken
A brief description or story of the photo
Image in .jpg or .bmp format (under 1 meg please)
Winners will receive a $100 Backcountry.com Gift Card, and their photo will be published (and web site linked up, if the winner has one) for the world to see on the AltaCam homepage!
Additional Contest Guidelines:
Up to five (5) digital photo submissions allowed per ski season.
Participants must not infringe on the rights of other photographers or landowners.
Photos involving willful harassment of wildlife, destruction of habitat or property unacceptable.
Failure to comply with guidelines will lead to disqualification at the sole discretion of AltaCam.
Submitted images may used on AltaCam.com.